Audit and Risk Committee - 26 March 2021 - Open Supplementary Agenda Item 1
1. Health and Safety Report
| | |
| --- | --- |
| Type of Report: | Information |
| Legal Reference: | N/A |
| Document ID: | 1299995 |
| Reporting Officer/s & Unit: | Sue Matkin, Manager People & Capability |
1.1 Purpose of Report
The purpose of this paper is to provide the Audit & Risk Committee with an overview of Health & Safety activity for the period 1 October to 31 December 2020.
a. The Audit and Risk Committee:
b. Receive the Health and Safety report for the period 1 October to 31 December 2020
Below provides analysis of health and safety activity for the quarter ended 31 December 2020.
HEALTH & SAFETY
1.3 Leading Indicators
Compliance Training
147 staff completed the following Health and Safety training during the quarter ending 31 December 2020.
| | |
| --- | --- |
| Compliance Courses | Total |
| First Aid | 31 |
| Confined Space | 6 |
| Working at Heights | 6 |
| Heights Refresher | 5 |
| Fire Extinguisher | 7 |
| Elevated Work Platform | 3 |
| Aggressive Customer training | 78 |
| Traffic Controller | 1 |
| Site Safe Civil | 6 |
| Fall Arrest | 4 |
| Total Staff Trained | 147 |
Other training during the quarter included:
· Health and Safety Inductions for all new employees
· Safe Operating Procedures (SOPs)
· Safe Work Method Statements (SWMS) extreme risk
· Contractor Management
· Behaviour Observations
· MySafety
· Risk Awareness
1.4 Six Weekly Health and Safety Committee Meetings
During the quarter there were eight Health and Safety Committee meetings held.
Investigation findings relating to three incidents were shared:
i) Mule Rollover
· A worker at the cemetery was driving a mule along a pathway that is commonly used by all workers
· The wheel veered off the pathway causing the mule to tip into the culvert
· Worker was taken to GP to check out, he was all ok
· There were no mechanical faults with the mule
· Based on the findings, it was operator error by taking the bend too wide
· Pathway was identified as a new hazard
Recommendations
· Blocked off the pathway with bollard, alternative route to be used
· Update the Safe Work Method Statement and retrain staff
· Isolation procedures to be trained out for notifiable events (as this was notifiable to WorkSafe) - no further action by WorkSafe
ii) Superior Exterior (Contractor) Foot crushing against truck
· Advised that potential crush injury of Superior Exterior worker
· Contractor advised WorkSafe immediately, secured the site (Excellent work)
· Emergency works due to high winds forecast, contractor doing work before the winds due the following day and the tree was a high risk tree that could fall over in the strong winds
· Workers removing large tree
· Operator stood on the truck to strop down the logs
· The log rolled and the operators foot was caught between the log and the truck sides
· Ambulance called and worker taken to hospital
· The worker ended up with bruising, not crush injury
· WorkSafe took no further action
· The site was safe at all times, the contractor had excellent paperwork and processes in place
Recommendations
· There were no recommendations due the excellence displayed by the contractors.
iii) Transfer Station – Member of Public injured in the Recycling Zone
· Customer recycling plastics at Redclyffe Transfer station, standing on the recycling trays. As he stepped to the other section the steel floor fell of it's mounting, which was the step
· Customer fell between the deck to the concrete grazing his knees as fell on the metal grids, receiving grazes and cuts
· Customer could not walk for around three minutes
· Other customers helped him up
· Contributing Factors
– Waste Management recycling bins and wooden steps not configure or appropriate for safe use
– No hazard identified at any stage around the safe operating of the waste management bins and steps
– Wear and tear of the stairs making them unsafe was unreported
– Waste Management drivers not used to not having the guides for the bins alignment i.e. bins do not line up with the stairs correctly
· Investigation Findings
– Lack of evidence that staff are aware of how to, or why they should, notify any hazards identified and controls required to either eliminate or isolate hazards
– Lack of communication within the transfer station team and contractors on site.
· Corrective Actions
– Area closed to the public until recycling area made safe
– Fix guide and steps to concrete (bolted into the concrete and steps so no movement can take place and guides for the green recycling bin in place
– Repair damaged steps
– Requested Safe operating procedure from Waste Management re glides when dropping of recycling bins
– Area was reopened to within a week
1.5 Audits and Inspections
Contractor audits completed during the quarter:
· MTG
· BAT
· 2x Fires at the transfer station
· Loader not fit for purpose at transfer station
· New layout for recycling at transfer station
· Gas leak and evacuation at MTG
· Fulton Hogan, Parklands
· HBRU – Park Island
· Gypsy Fair at Anderson Park
· Dinosaur Event on Marine Parade
· KC Electrical
· Home and Garden Show
· KP Rose Gardens
· Drainage 2x
· Water Works
· Russell Roads, Tirinui 2x
· Russell Roads, Marine Parade 2x
· Dodge Contracting, Bluff Hill
· Interflow – Outfall
· Pollett Furniture
· Network Tech
· Falcon Electrical
· Chubb - MTG


1.6 Health & Safety Performance Indicators
Incident Reporting
| | |
| --- | --- |
| Reported Incidents | Total for Quarter |
| Lost time injuries (LTIs): | 0 |
| Medically treated injuries (MTIs): | 7 |
| Incidents for Employees | 29 |
| Near miss/hit & property damage reporting | 24 |
| Incidents Involving Public using our facilities | 17 |
| Incidents involving Contractors | 2 |
During the quarter ended 31 December, there were:
· 29 reported events involving employees across all areas of Council
Below are the mechanism of harm criteria graph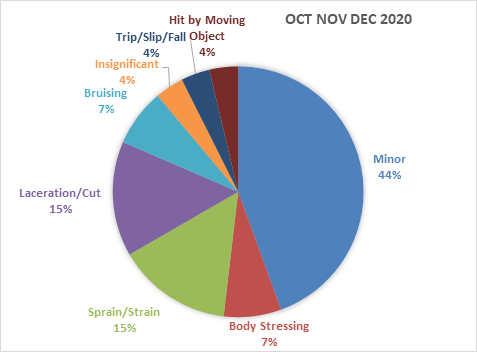 1.7 Health and Wellbeing
Health Monitoring
Worker health monitoring is undertaken by Loop Health & Safety. Workers are monitored depending on the work they carry out. Monitoring includes hearing, lung function, blood pressure, trace metals.
The health monitoring completed during to the quarter to 31 December 2020 included
· 7 pre-employment health monitoring
· 81 Annual health monitoring
Three workers were referred to audiologist
1.8 Wellbeing
Focus on wellbeing is supported by the development of a Wellbeing calendar developed for the calendar year January to December 2021. Events are designed to raise awareness and encourage participation. Events are planned for each month and include:
· Focus on Alcohol – risk awareness
· Workplace stress and resilience workshop
· How to avoid burnout workshop
· Measles and flu vaccinations
· Managing across generations workshop
· World Smoke free Day
· Men's Health month
· Workplace support for mental wellbeing and mental health awareness week
· Women's health month