Prosperous Napier Committee - 24 September 2020 - Open Agenda Item 2
2. Procurement update - How Strategic Procurement can help achieve "broader outcomes" for Council.
| | |
| --- | --- |
| Type of Report: | Information |
| Legal Reference: | N/A |
| Document ID: | 962946 |
| Reporting Officer/s & Unit: | Sharon OToole, Procurement Lead |
2.1 Purpose of Report
With an annual procurement programme of approximately $100 million per year (exclusive of internal staff costs), Council's procurement can have a profound effect on the local economy.
The Procurement Lead role commenced at Council in May 2019 to lead the development of a procurement & contracts management framework to add value, reduce risks and align activities with strategic objectives.
This paper outlines the legislative and regulatory framework that applies to Council procurement, and socialises recent developments and planned improvements that will help support advances in outcomes, capability, probity and assurance at Council. The paper includes suggestions on how Council will take a strategic approach on the consideration and integration of the 4 local government "well beings" and central government "broader outcomes" into Council procurement activities.
The Prosperous Napier Committee:
a. Note the update on procurement and contract management at Council with particular reference to broader outcomes.
Legislative and Regulatory Framework
Council's 2019 Audit New Zealand report noted "Napier City Council has medium levels of inherent risk for both procurement and contract management." In May 2020 the Auditor-General contacted LG Chief Executives (including at NCC) recommending a review of procurement practices, with a focus on:
· good governance for procurement;
· planning for significant capital projects;
· conflicts of interest;
· emergency procurement;
· procurement capability and capacity;
· contract management; and
· Achieving broader outcomes through procurement.
This report provides details on the progress and next steps that Council officers are making in addressing the matters raised by audit and also outlines the good practice guidance and statutory requirements which need to be considered.
Government Procurement
The NZ Government Procurement Rules (4th Edition) 2019 (Procurement Rules), sets the Government's expectations for how government agencies should approach procurement activities. It includes procurement principles, charter, rules and best practice guidance. Council is expected or encouraged to apply the Government Procurement Rules as good practice to support accountability for spending, sound business practice and to ensure that the expenditure of rate payer funds is well planned, sourced and managed.
Office of the Auditor General (OAG)
Council's procurement policies should be consistent with the principles laid out in Procurement Guidance for Public Entities, published by the OAG. This defines good practice such as legal implications, ethical standards and accounting for whole of life costs.
Local Government Act 2002 (LGA)
Under the Local Government Act 2002, Council must ensure its procurement activities are carried out in an open, transparent and democratically accountable way. Decisions must be robust and defendable, and ethical and legal considerations must be taken into account.
Land Transport Management Act 2003 (LTMA)
The Land Transport Management Act 2003 sets out Waka Kotahi New Zealand Transport Agency's requirements for approved organisations. Council must have a current procurement strategy for transportation activities and all expenditure must be made using a Waka Kotahi approved procurement procedure.
Other legislation that may apply to Council procurement is:
· Land Transport Management Act 2003
· Construction Contracts Act 2002
· Electronic Transactions Act 2002
· Sale of Goods (UN Convention) Act 1994
· Local Government Official Information and Meetings Act 1987
· Official Information Act 1982
· Contracts (Privacy) Act 1982
· Contractual Remedies Act 1979
· Contractual Mistakes Act 1977
· Local Authorities (Members' Interests) Act 1968
· Public Bodies Contracts Act 1959
· Frustrated Contracts Act 1944
Public law obligations can also apply to any aspects of a procurement process
2.3 Changes to the public sector procurement landscape
Procurement objectives have evolved, in the 80's and 90's it was common to see a focus on achieving the best price, however this approach can value price over quality. As procurement practices matured there was an emphasis on "value for money", a combination of both price and quality elements.
More recently local and central government recommend organisations consider 'public value' where organisations consider what additional 'broader outcomes' could also be gained through procurement activities. This encourages procurement expenditure to be seen not only in terms of the good or services that are required, but also the potential secondary benefits that could be achieved. These being:
· Social
· Environmental
· Cultural
· Economic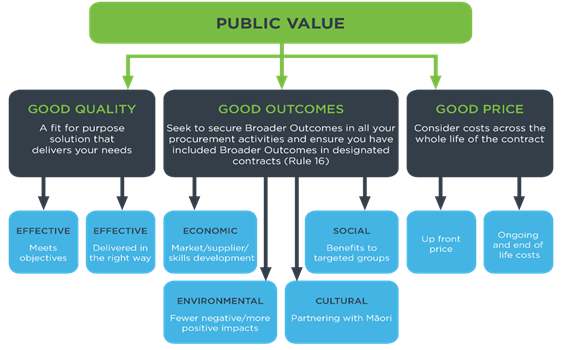 Local Government four well beings
The Local Government Act requires Council to take a sustainable approach and consider the social, economic, environmental, and cultural wellbeing of people and communities. These considerations have become increasingly important as Council considers how to use COVID-19 recovery activities to support these outcomes e.g. reducing unemployment rates, enhancing the skills of the local workforce, enabling the growth of local markets or suppliers, considering the quality of the environment, and the needs of future generations.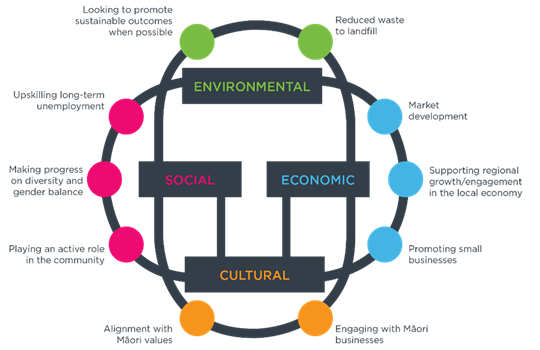 Government Procurement Broader outcomes
In October 2018 the Government recognised that its procurement activities offer a unique opportunity to achieve broader, cultural, economic, environmental and social outcomes for New Zealand. The Government expects the public sector to achieve broader outcomes.
· Increasing access for New Zealand businesses
· Construction skills and training
· Improving conditions for New Zealand workers
· Reducing emissions and waste
The Construction Sector Accord
The Construction Sector Accord was launched in April 2019 by the Prime Minister and sector leaders from across industry and government. The Accord created a platform for industry and government to work together to meet some of the key challenges facing the construction sector including skills and labour shortages, unclear regulations, a lack of coordinated leadership, an uncertain pipeline of work and a culture of shifting risk. Some key focus areas are noted below
· New Zealanders — safe, healthy and durable homes, buildings and infrastructure that support the wellbeing of our communities.
· Workforce — safe, secure, rewarding careers
· Industry customers — functioning and competitive market
· Industry — sustainable, resilient, successful businesses
· Public Sector/Government — a construction sector that supports the wellbeing of New Zealanders
2.4 Napier City Council Social outcome example 1
Napier City Council (NCC) and Ministry of Business, Innovation and Employment (MBIE) recently entered into a Funding Agreement for a number of local projects which were intended to stimulate the local economy following the pandemic lockdown. The funding agreement objectives were to:
· Redeploy people Hawke's Bay that had lost work due to the COVID lockdown
· Provide alternative employment for 3 – 6 months
· Align with Hawke's Bay regional economic development objectives
· Increase participation with Maori and Pasifika
· Employment and training for redeployed local workers.
· Improve conditions for workers, and
· Support the transition to net zero emissions.
Before advertising the contract opportunity Napier City Council met with a range of local suppliers to socialise the broader outcome content. This content was included in the tender and contract documentation and the broader outcome measure form part of the reporting that Council completes to demonstrate that these outcomes are being achieved through delivery of the contract.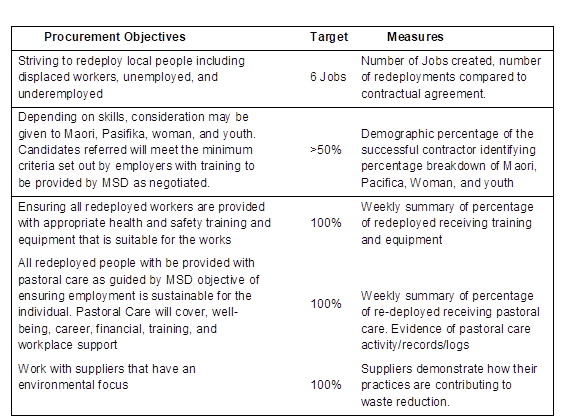 2.5 Napier City Council Social and Cultural outcome example 2
In 2016 the Napier Rotary Pathway Trust, partnered with Council on a project to develop a pathway from Otatara Pā to Churchill Drive and install Turauwha pou.
Otatara Pā Historic Reserve has been managed by Department of Conservation (DoC) in consultation with Ngāti Paarau since 1987. Ngāti Paarau are kaitiaki of the site and work closely with DoC to manage and protect it. Recognising and preserving the cultural and heritage values of the site was of primary importance in considering the formation of the proposed walkway. A partnership approach was taken with tangata whenua and other agencies with management responsibility for Otatara Pā Historic Reserve. This resulted in agreement on the type of materials that would be used in the construction process as well as the location of the walkway itself and the placement of the pou. Council required the successful contractor to employ staff from the Ngāti Paarau to work on the project, allowing continued ownership of the project well after the pathway was finished.
2.6 Improving procurement and contract management
As we make the journey towards a strategic approach to broader outcomes we need to have good foundations in place - policies, templates, forms, processes, guides and training. We then build on these foundations to improve further and become more strategic, and do more, and do it better. There is a plan in place to improve our BAU (business as usual) procurement activities, these will support a strategic approach to achieving broader outcomes for Council and our community. The improvement work is summarised through the diagram below.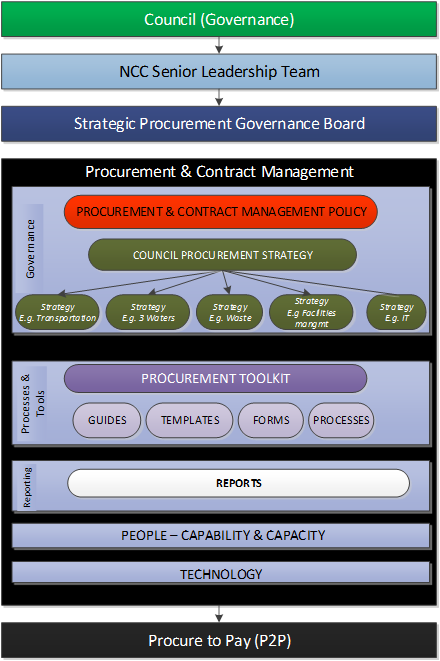 2.7 Better foundations
There has been a lot of work completed, but there is more to do. A snap shot of improvements is listed below.
New Procurement Strategy – Transportation Activities
A current Transportation Procurement Strategy is a requirement of Waka Kotahi, the latest version was approved at a meeting of Council 16th August 2020. The new Transportation Procurement Strategy introduces the concept of public value and broader outcomes into Council's procurement processes. The intent is to replace this Transportation Procurement Strategy with a broader Council wide procurement strategy before July 2021.
Council website - Procurement section
This area of the NCC website was created to help current and potential suppliers/contractors understand what to consider when working with NCC. It can found at, https://www.napier.govt.nz/our-council/procurement/
There is information provided on the following:
· Tendering – sourcing good services and works
· Purchase Orders terms and conditions
· Invoicing and payments
· Health and safety (including Health and Safety Prequalification – Risk guide)
It is a useful way to provide suppliers with information and guidance and more information will be developed and added.
Central Repository for Procurements Templates and Guides
A centralised repository has been established to provide a one stop shop for Council staff to access documents that will support their procurement and contract management activities.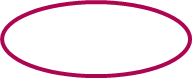 New Procurement and Contract Management Templates and Guides
Over the past year over 50 new templates and guides have been developed to support NCC's strategic procurement approach – these encompass procurement planning, tender document, identifying and managing Conflicts of Interest, Contracts, as well as the award of contracts and contract management.
Contract Register
Maintaining a contract register is a core component of sound contract management practice. Guidance from Audit New Zealand states that one of the three aspects of contract management includes ensuring there is an appropriate contract management system in place. The Council Contracts Register enables users to centrally log key details of current Council contracts to enable:
· easy monitoring of contract expiry, renewal or other key dates to ensure they are not missed;
· ease of handover of contract management responsibilities in the event of change in personnel;
· Generation of snapshot reports that can be analysed for business management and strategic purposes.
Training
The Procurement Lead has completed Procurement and Contract Management Foundation training with a number of Council departments. More training is planned.
Meeting internal demand for services
As procurement maturity across the organisation continues to grow, and the size and scale of projects that Council has in its Annual Plan grows Council will continue to assess its resourcing requirements. In the interim an external agency has been engaged to meet any capacity requirements in the short term.
Reporting - Procurement Spend Analysis
Council financial reporting tended to be budget focused. The Procurement Lead in conjunction with Finance created a SQL report which supports a view of Council's external expenditure with suppliers:
· What suppliers do we use?
· How much are we spending with them?
· Who uses them?
· How frequently (are they still being used)?
2.8 Taking a Strategic procurement approach to broader outcomes at Council
The examples demonstrate that achieving broader outcomes is not new for NCC, but the implementation has tended to occur on a project by project basis. A strategic approach will help ensure we don't miss opportunities by taking a more holistic view of procurement to identify projects where broader outcomes could be realised. This strategic approach would be strengthened by the following:
Develop a procurement strategy that considers broader outcomes
Develop a procurement strategy that incorporates broader outcomes. Strategy is all about Council's choices. As individual procurers or procurement teams, we have limited resources. Because of this, it's important to recognise that we may not be able to deliver broader outcomes in every procurement activity but by developing and implementing a strategy, we can prepare ourselves to make the best choices for our resources to maximise the broader outcomes we can deliver on.
How do we start?
· Get the right people involved
· Get sponsorship from Council and senior leadership
· Understand what we're already doing and learn from what others are doing
Prioritise the initiatives that could support broader outcomes
Think about
· High-spend areas – these usually provide more opportunity to leverage the procurement to achieve broader outcomes.
· High-influence areas – is the Council in a position to influence a particular industry? This can create opportunities to use that influence to encourage suppliers to help deliver broader outcomes.
· Council priorities – think about Council's priorities, and where there may be opportunities to align broader outcomes with these.
· Market capabilities – consider the markets where suppliers are already capable of delivering on broader outcomes, or what Council could do to develop capability to deliver in future.
· Size of procurement activities – the size of projects activities may create opportunities.
Establish an approach to procurement that incorporates broader outcomes
· Think about procurement as part of strategic planning activities – procurement planning starts well ahead of the tender. Strategic priorities, should inform sourcing activities, tenders and contract activities, and can have a significant effect on the nature of goods and services that are purchased.
· Encourage early engagement with procurement teams – often, once a decision has been made to purchase a product or service it can be challenging for procurement advisors to incorporate broader outcomes into the process.
· Consider the scope of contracts during planning – the planning stage is also where key decisions are made about the scope of contracts. This can determine whether they're accessible for New Zealand businesses, including Māori and Pasifika businesses, and whether diversity and social outcomes are considered.
Prosperous Napier Committee - 24 September 2020 - Open Agenda Item 3
3. Lease of Reserve - Hawke's Bay Hockey Artificial Surface Trust - Park Island.
Type of Report:

Contractual

Legal Reference:

Reserves Act 1977

Document ID:

964207

Reporting Officer/s & Unit:

Bryan Faulknor, Manager Property

Debra Stewart, Team Leader Parks, Reserves, Sportsgrounds
3.1 Purpose of Report
To seek Council's approval to enter into a new ground lease with the Hawke's Bay Hockey Artificial Surface Trust for the Hockey Facility at Park Island. The proposed lease includes an additional area to accommodate the proposed third turf.
The Prosperous Napier Committee:
Resolve:
i. That pursuant to Section 54(1)(c) of the Reserves Act 1977, to grant a lease to the Hawke's Bay Hockey Artificial Surface Trust for an area of land at Park Island Reserve accommodating the existing facility plus including provision for a proposed new turf.
ii. That the term of the lease be for a period of 15 years, with one right of renewal.
The Hawke's Bay Hockey Artificial Surface Trust is a long- standing respected incumbent lessee for the land currently occupied by the Hockey Facility at Park Island.
The land at Park Island is a recreation reserve vested in Council pursuant to the Reserves Act 1977.
The current lease has expired and it is important to enter into a new lease and at the same time incorporate an additional area to accommodate the proposed third turf.
The proposed area is shown in the attached plan outlined in orange.
Council has delegated authority pursuant to Section 54 of the Reserves Act to approve the proposed lease.
Council does not own or maintain the facility with the Trust owning the improvements and spending substantial money preparing and maintaining the area.
Section 54(1)(c) of the Reserves Act therefore allows for the lease of the land for exclusive use by Hockey.
Further, Hawke's Bay Hockey have made a significant initial contribution to the development of the facilities.
3.3 Issues
Hawke's Bay Hockey have developed a multi- staged masterplan for the Hockey Facility at Park Island.
Stage 1 of that plan includes the addition of a third turf.
The Park Island Master Plan adopted by Council in 2017 provided for additional hockey turfs. This was authorised by District Plan Change 11.
Council has committed $1.5m ($1m in grants and a $500,000 loan) to the additional third turf project.
HB Hockey have available funds, and are continuing with fundraising for the balance required.
In addition, negotiations and fundraising continues with regards the undergrounding/relocation of the power lines, which are located where the third turf is proposed to be built. A new transformer is also required.
Over recent years hockey has experienced considerable growth with both winter and summer hockey numbers increasing year on year for the last 10 years and the turfs now being at capacity for much of the time.
3.4 Significance and Engagement
The Park Island Master Plan has been through a District Plan Change process.
3.5 Implications
Financial
The Trust will be charged ground rental in line with Council's current practice with regards Community Groups occupying Council Reserve Land. It is however not proposed to charge the Trust rent for the area subject to the third turf until it has been constructed and in use.
Social & Policy
Council support of Sport contributes to community wellbeing and recognises the social good that arises from having our community active in their local sports clubs and organisations.
Risk
The development of the third turf is subject to successful fundraising and resolution of the power line undergrounding issues. However if the project does not go ahead for some reason then a future lease variation could be made to amend the areas.
3.6 Options
The options available to Council are as follows:
a. To enter into a new lease as outlined.
b. To not enter into a new lease.
3.7 Development of Preferred Option
The preferred option is option a.
It is important that the Trust has updated legal tenure including the area for the third turf. This is essential to be able to secure funding.
a HB Hockey Artificial Surface Trust proposed lease area - outlined in orange ⇩
b Concept Plan showing proposed third hockey turf ⇩
Prosperous Napier Committee - 24 September 2020 - Open Agenda Item 4
4. Granting of Easement - Nelson Park School
Type of Report:

Legal

Legal Reference:

Reserves Act 1977

Document ID:

964594

Reporting Officer/s & Unit:

Bryan Faulknor, Manager Property

Debra Stewart, Team Leader Parks, Reserves, Sportsgrounds
4.1 Purpose of Report
To seek Councils approval, pursuant to Section 48 of the Reserves Act, to grant an easement and right of way over part of Nelson Park. This is required to allow a revised access way to Nelson Park School from the Park.
The Prosperous Napier Committee:
a. Resolve
Pursuant to Section 48 of the Reserves Act 1977, to approve the granting to Her Majesty the Queen for a Public School ('the Grantee') an easement over an area of land in Nelson Park adjacent to the Nelson Park School. This is to allow a turning circle to be completed and to formalise a right of way over the access way already formed, incorporating the vehicle turning circle and running between the existing school entrance and Jull Street.
Nelson Park School has an existing access gate from the roadway around Nelson Park, which has been in place for many years as a pedestrian and vehicle access from the park. The current vehicle access includes emergency and maintenance traffic as well as the Fairhaven Special Needs unit van, which delivers and collects students before and after school.
The accessible entrance to the Fairhaven unit is currently situated off the school playground/court space, which creates a health and safety issue for the school with children playing, and the morning and afternoon vehicle movement in and out.
Both the Nelson Park School and the Fairhaven Unit have proposed a joint project to improve access to the school and resolve the Health and Safety access to the Fairhaven unit.
This project involves a widening of the existing gateway, providing a turning bay and on -site parking space for the Fairhaven vehicle. The access to the unit is then proposed from a position outside the playground via a covered accessible ramp and new doorway, resolving the need to drive the van into the playground.
Access to the playground for emergency vehicles would be provided via removable bollards.
In summary, the proposal is to establish a vehicle turnaround and to provide safer vehicle access through Nelson Park to the special needs unit and the east side of Nelson Park School.
The intention is to:
• Install a raised kerb on the side of the existing road access to remove the informal parking along the grass on both sides of the school entrance.
• Install a safe vehicle turnaround on Ministry and Council land.
• Paint a pedestrian crossing on the roadway.
• The school is being funded through the Ministry to develop the above.
• The school will be responsible for the maintenance of the vehicle turnaround area.
4.3 Issues
Currently there is no formal agreement with Council concerning the use of the park as an access way by the School. The land is also used by the public for sporting events and other public uses associated with Nelson Park.
To legalise the situation and allow the construction of the vehicle turning circle Council is required to grant an easement over its land to formalise a right of way over the access way already formed, incorporating the vehicle turning circle and the land running between the existing school entrance and Jull Street.
4.4 Significance and Engagement
N/A
4.5 Implications
Financial
There is no financial impact on Council. The Ministry of Education will arrange and pay all costs relating to the works and the survey of the Easement area and will reimburse Council's reasonable legal costs associated with the Easement.
Social & Policy
N/A
Risk
N/A
4.6 Options
The options available to Council are as follows:
a. To approve the granting of the required easements to allow the project to be carried out.
b. To not approve the granting of the required Easements.
4.7 Development of Preferred Option
The granting of the required Easements will legalise an existing long- standing access way and allow for the construction of the vehicle turning circle. This is required for Health and Safety reasons.
a Nelson Park School - accessway plans ⇩
b Nelson Park School School - aerial view showing general area ⇩